CNN on Bible Seizure in Malaysia
Bibles seized as Malaysia minorities fear fundamentalism
October 29, 2009 -- Updated 1254 GMT (2054 HKT)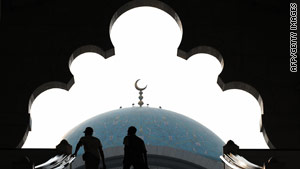 Non-Muslims in Malaysia fear that Islamism is seeping into the moderate nation's fabric.
(CNN) -- Authorities in Malaysia have seized more than 20,000 Bibles in recent months because they refer to God as "Allah," Christian leaders said Thursday.

The seizures have fed fears among minority groups, which see signs of encroaching Islamic fundamentalism in the predominantly Muslim but multi-racial country.

"There is a growing sense of Islamic assertion, yes," said the Rev. Hermen Shastri, general-secretary of the Council of Churches of Malaysia. "There is some concern."

The Bibles were written in the country's official language, Malay -- in which the word for God is "Allah," as it is in Arabic.

However, Malaysia's government says the word is exclusive to Islam.

Its use in Christian publications is likely to confuse Muslims and draw them to Christianity, the government says. So it has banned use of the word in Christian literature.
read more